September 9th: Donate Blood In Memory of Clarissa Pearson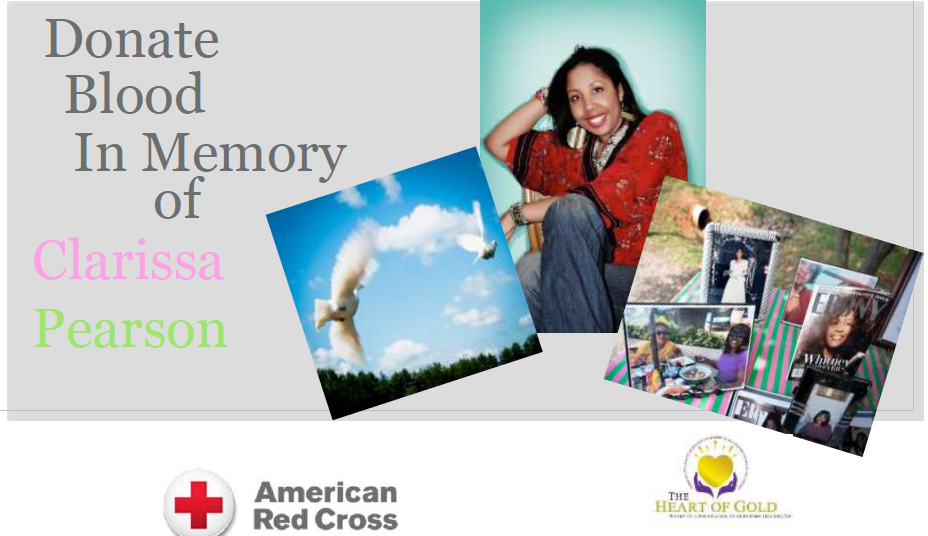 PLEASE JOIN US AND SAVE LIVES THIS SICKLE CELL AWARENESS MONTH IN MEMORY OF CLARISSA AND THE COUNTLESS SICKLE CELL WARRIORS IN NEED OF LIFESAVING BLOOD!
"Never was there a true spirit of a sickle cell warrior than Clarissa Pearson. She was also a mom, daughter, cousin, friend, Non-profit CEO, AKA and much more! Her life was one of trials and suffering, long hospital stays and multiple blood transfusions"
– Pearson Family.
PLEASE SCAN THE QR CODE TO SCHEDULE – ALL DONORS WILL REIEVE $10 AMAZON GC VIA EMAIL AND ALL ARE WELCOME!


SEPT 9TH 9AM – 3PM
Claude Moore Community Center
46105 Loudon Park Lane, Sterling, VA 20164
SEPT 22ND 12PM – 5PM
Hilton Springfield
6550 Loisdale Rd, Springfield, VA 22150
RIGHT NOW, THERE IS A ESPECIALLY A NEED FOR BLACK AND AFRICAN AMERICAN BLOOD DONORS TO HELP SUPPORT PATIENTS WITH CONDITIONS LIKE SICKLE CELL DISEASE WHO RELY ON AN ETHNIC MATCH!